Highlighted in the Summer Study Directory section:
DeSales University features professional arts training summer camps in video, theatre, and dance. College credit for graduates of 2020 or prior.
Works to develop the highest quality theater artists & scholars, through rigorous professional training, humanistic inquiry, and creative activity.
Students explore their talents and creativity within a framework of professional discipline and development in classes & practical stage experience.
Summer Study Directory
Page 1/1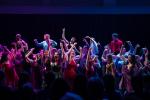 Manhattan School of Music's prestigious Musical Theatre program is the only stand-alone conservatory program in New York City. Students receive comprehensive training, culminating in a fully accredited Bachelor's degree. This expansive program benefits from its New York City setting, attracting professional artist-teacher faculty and guest artists who have created and performed in some of Broadway's biggest hits. Students have the opportunity to attend master classes given by actors, writers, directors, choreographers, and casting directors who are currently active in the city's professional theatre community--the kind of real-world experience that only NYC can provide. Students have the opportunity to perform in showcases & fully produced productions, and to participate behind the scenes. Culmination of the degree is a high-profile Senior Showcase attended by NY theatre professionals.
120 Claremont Avenue New York, NY 10027
P. O. Box 4053 San Rafael, CA 94913
Claim this company
Marymount Manhattan College offers you small classes, personal attention and great courses -- all in the center of New York City on the beautiful Upper East Side of Manhattan. We combine professional theatre education and training with the liberal arts, teaching our students how to create compelling, informed, imaginative, and innovative theatre. The Department of Theatre Arts views a liberal arts education as an integral part of students' theatre studies and training. It is our philosophy that the more well-rounded the education of theatre students, the better prepared they are to create and produce compelling and imaginative theatre. We take great pride in the mentoring of our students. Faculty meet with students on an ongoing basis to review class work, discuss progress, advise on projects, and to guide artistic growth.
Theatre Arts Program 221 E. 71st St. New York, NY 10021
Showing 1 - 5 of 5 records